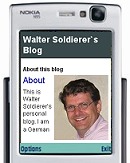 Most mobile phones have some sort of Internet access built in. However, not many owners of mobile devices use them to surf the web. There are several obvious reasons. First of all, carriers still charge too much for internet access. The WWW user experience on mobile phones is variable, to say the least. Access fees will go down, and I am sure that mobile flat rates will be the predominant pricing model soon. It will take some time though until most mobile phones belong to the 3rd generation and until mobile web standards are sufficiently well defined and implemented to support consistent web page rendering on the mobile web.
Not many mobile phones in use today offer decent internet browsing like Apple's iPhone or recent Nokia models. Surfing the web on an iPhone is easy because it uses a full featured Safari browser and can flip to portrait view when the phone is turned 90 degrees (accelerometer).
A significant part of all web surfing will be done on mobile devices only if and when:
most important web sites have (CSS driven) mobile interfaces
mobile devices have larger displays and regular web browsers (good bye WAP)
prices for 3G phones come down to $200-250
high speed mobile internet access at affordable flat rates
Most web site owners today are not willing to invest lots of recources into building a number of tailored mobile web interfaces that suit different mobile devices. When mobile devices have standards based web browsers  there will be a need for only one such interface, if the site's main interface is not sufficiently compatible with mobile phones already.
Thanks to mofuse.com this blog has a mobile interface, too: mobi.soldierer.com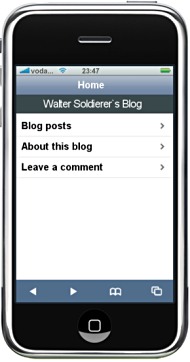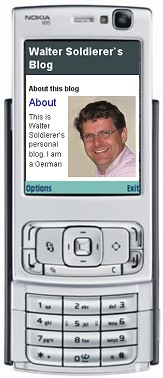 t.b.c.