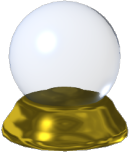 What will be different 5 years from now? Let's take a look into my crystal ball…
M

ore people will use the Internet but the increase will have slowed down in developed countries.

O

nline shopping will continue

to grow.

Internet connections will be faster, also on mobile devices, allowing for more rich media marketing, audio and video

.

Effective marketing campaigns will involve users and put them in control. Interaction, not interruption. Users decide

what messages they accept

when, where and how.

Internet ad spending will continue to increase. More budgets will be taken away from

TV, radio and print media advertising. This trend will not be over in 5 years though.

Ads will be more relevant, better targeted. M

ore advertising will be placed on social networking sites and other sites that require registration and thus provide better targeting opportunities.

Search engines will therefore have to give up a significant part of their ad revenues. There is better targeting available than contextual advertising can offer.
Viral video ads with low production costs will compete with traditional TV ads.

A high level of authenticity and transparency will be required for s

uccessful online marketing campaigns

Recommendations and opinions will play an important role in the online purchasing process.

Online advertising will be more entertaining, supported by rich media campaigns.

More "Long Tail

" marketing will be done.

Measurability of

online campaigns will increase. Ads in audio and vid

e

o podcasts will be measurable.

Untargeted banner advertising will disappear or become very low cost.

Marketing campaigns in

online communities and virtual worlds

will be an important part of the marketing mix.

Email marketing will be less effective. Click rates will continue to drop, s

pam will stay.

Mobile devices will support advertising that is

location aware

.

Most Internet users will have mobile phones or similar devices and regularly use them for reading blogs, news, and emails. They will also often use them to update their own sites like blogs, online community pages.