2nd day of a well organized IQPC conference on Web Site Globalization, Barcelona Sep 20, 2007
Niklas Schlappkohl – Senior Manager Online Globalization
STARWOOD RESORTS & HOTELS
"Using the Web to Develop Your Online Presence and to Protect Your Online Brand Equity"
Critical: Understanding cultural acceptance while protecting brand standards
Examples:
Languages
Salutations: Title / First Name / Last Name / Both / San (jp)
Style, Colors, Layout
Geosegmented functionality
Usabilty testing localization issues showed that pictures were far more important than content. US State/Province dropdowns in destination selections are an obstacle for users, even if not a mandatory input. International users do not know what states US cities are in. Date formats are very important to avoid confusions.
No country sites for Sheraton Hotels (identified as a problem!). One web site has all geographical areas and languages. Geotargeting based on user's IP address will provide local features (contact phone number, field marketing offers.
Miguel Ángel Hernández Álvarez – Media Director
REAL MADRID

"Using the Web to Develop Your Online Presence and to Protect Your Online Brand Equit"
Real Madrid is a global brand, but uses different terminology: Business is "the sport", Company is "the club", Customers are "the fans". Brand is about passion and feelings, not business. Fans happily buy high priced fan products, e.g. personalized shirts for up to 100 Euros. Revenue comes from ticket sales, marketing (fan products), and broadcast rights (1/3 each). 200 million fans world wide. Largest budgets of all clubs.
Problem for RM: The mass media rights, now seen as "Mess media" because different channels defined in rights are now overlapping, e.g. RM is allowed to broadcast a game via IP TV on a TV screen 30 min after the game, whereas regular TV broadcast (RM's own pay TV channel) is not allowed until 2 days after the game.
2 million uniques per month
translations so far only EN, ES, JP
translation being done internally with own translators
60% traffic from outside Spain
Mobile devices becoming more important revenue streams, e.g.
SMS messages sent during a game
friend to friend SMS invitations to watch the game on TV
news service (purchasing new players…)
Localization for mobile services important.
PANEL SESSION: Establishing Global Content Management and Workflow Systems to Support Multi-Market Deployment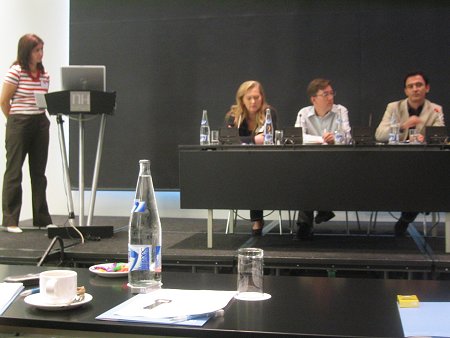 left to right:
Arancha Caballero – COO, TSG-GLOTAS & GALA BOARD MEMBER
Maikki Frisk – Senior Manager, Operations Development, NOKIA MULTIMEDIA
Steven Joseph – Web Manager, CMC Global Brand Management, AMADEUS
Mauricio Garza – Consultant Europe, COMMON SENSE ADVISORY
Panel advise: Selecting and implementing CMS and TMS systems:
company processes and strategies need to define the CMS/TMS system, not vice versa
mandatory central content should be translated (and paid for) centrally
software licenses are only a fraction of the costs involved
continued service as important as the software itself
ask vendors about R&D projects – what will the system do and look like in 5 years?
phased roll-out highly recommended, market by market, site by site
Veronica Johow – Web Manager
ASTRAZENECA – ITALY
"Integrating Your Global Web Resources into Local Sales & Marketing Strategies and Tactics to Drive Company Growth"
AstraZeneca Italy needs to operate within the same legal frameworkl as all pharmaceutical conmpanies, making it impossible to promote prescription medicines to consumers directly. In addition to various EU and national legal requirements, AstraZeneca has its own global and local codes for online publishing on the international corporate site, country sites, and brand sites (product sites).
Main target audiences are doctors (HCP, health care professionals)  and the public (patients).
Veronica gave two examples for global/local co-operation on web projects:
1. re-using and translating disease content on an AstraZeneca international site to add a disease section for patients on their Italian corporate site
Main lesson learned:  The registration procedure was a big obstacle for visitors and the site's traffic increased significantly after this requirement was removed.
2. eDetailing
Global eBusiness  provided evidence as to how useful eDetailing can be. Local implementation, with email marketing (rented list) being used for the promotion. User registration required. Sales reps were involved at an early stage, and they were the ones to receive  requests for more information sent through the eDetail. The campaign was successful, and sales reps were convinced of its usefulness, too.